Lyme Disease Supplements
Lyme Disease Books
Topics of Interest
Lyme Disease: A Basic Education
By Matthew Goss
Published by Lymebook.com
I've put this page together mostly to organize my own thoughts and research. If it can help you learn about and understand the disease too, then it can serve a dual purpose. What I've tried to do is translate all of the jargon and facts into a useful layman's guide to the disease and treatment.

It is not meant to be an authoritative article, and by no means is it meant to provide any medical advice or diagnosis, or to suggest or recommend treatment procedures or drug dosages. What it is meant to do is give an overview of how the disease works and how it is treated. Breaking it down like this has really helped make this disease less frightening for me, and I hope it can do the same for you.

I'm going to start by describing how I got the disease, and how I came to realize I had it. This may help others recognize the symptoms, which I will go into in greater detail on later.

How I got it | Types of Ticks that Carry Disease | Definitions and Terminology | Symptoms and Tests |
| Drugs | Herxheimer Reactions | Vitamins, Nutritional Supplements, and Herbs | Bacteria and Yeast |
| Diet | Costs of Treatment | Is There a Cure? | Is it Sexually Transmitted? | Links |




From February 28th until June 21st of 2002, I hiked nearly a thousand miles through the Appalachian mountains from Georgia to Virginia.

I didn't hear a whole lot about Lyme Disease before I left for my hike. But I learned a little bit about it, and went fully armed with 10 days worth of tetracycline antibiotics, which I carried for nearly a thousand miles before I went home in good health. They were one of the few non-negotiable items in my pack.

I never used them...on the trail.

About 3 weeks after I got off the trail, I was back in Pennsylvania working on finding a job, relocating, living out of a suitcase, a million "other" things to do. I got a really bad sinus infection that turned into a fever, complete with chills, sweating, mild hallucinations and swollen glands. After my third straight day in bed I pulled the antibiotics out of the first aid kit in my pack and started taking them. A week later I was back to normal. Still had lots of "other" things to worry about. It went away, and since I was unemployed and didn't have health insurance, I didn't go to a doctor.

Fast forward 4 weeks...

I had just relocated to Nashville, started a new job, and was still trying to unpack and furnish my apartment. Still lots of "other" things to do to transition back to the "real" world.

I got a really sore throat that seemed to last forever, and got more and more painful as the days went by. I eventually lost my voice. My glands swelled up again. I started back on what I had left of the antibiotics, and the illness turned into a chest cold with a bad cough and then went away after about 2 weeks.

Two weeks later I was back where I started. Each time I got sick it seemed to get worse. And each time more and more symptoms showed up. I got a urinary tract infection that went away for a week and then came back for a week, back and forth, no getting rid of it, despite massive doses of antibiotics. I slept 10 to 12 hours a day. After taking enough antibiotics to kill a small mammal steady and hard for 3 weeks, I was still sick and tired.

Within a couple of weeks, I began experiencing what people with Lyme call "brain fog," which is a collection of symptoms that involve difficulty concentrating, short term memory problems, focusing, etc. At the same time I also began having trouble focusing my vision. It became a real effort to keep my eyes focused on what I was reading. You know how you feel when you haven't had any sleep for a couple of days and you just can't get your eyes to focus anymore? I started feeling like that for a couple of days at a time, even though I'd been sleeping 12 hours a day.

I also started experiencing muscle twitching all over my body, and some muscular aches and joint pains. My legs would feel like jello.

Next came the hearing sensitivity. I work on the phone all day, and I started having to turn the volume on my phone way down because background noises and high pitched voices really started to grate on my nerves.

And I noticed trouble thinking clearly, and became frustrated easily. I used to enjoy reading very much, and spent most of my free time doing that (at least 2 hours every day). But I found myself constantly having to re-read things and eventually gave up on it. Short term memory became a problem, and I would "zone out" easily. I forgot things as soon as I was told them, and had to ask people to repeat things often.

I started having trouble with simple math problems. Like a math computation which requires two or three steps of simple arithmetic, such as adding a couple of numbers and them multiplying that by another number, and then dividing by something else. I'd get to the second or third step and forget what I was trying to figure out, or what the next step was, and I'd have to start over. Usually by the third try I would actually get it.

Types of Ticks that Carry Disease

The funny thing is that I remember getting bitten by ticks. The first ones I saw on the trail were just outside of Atkins in some grassy fields on May 7th. But I thought that only the little tiny deer ticks would hurt you. Indeed, every other hiker that saw me pulling them off said "don't worry, those aren't the kind of ticks that carry Lyme Disease." And I didn't worry.

Well now I know better. There are at least 8 different kinds of ticks that carry tick-borne diseases. These types include ixodes scapularis (deer tick), ixodes pacificus (western black legged tick), ixodes dammini, ixodes angustus, amblyomma americanum (lone star tick), dermacentor variabilis (American dog tick, sometimes called the wood tick), rhipicephalus sanguineus latreille (brown dog tick), and ornithodoros hermsi.

There are lots of web sites on the internet perpetuating the myth that only deer ticks carry Lyme, but if you do enough searching you will also find evidence that many other types of ticks have been proven to carry Lyme and other diseases. I was infected by dermacentor variabilis (American dog tick, sometimes called the wood tick), which most people will tell you does not carry or transmit Lyme. The ticks that bit me were never attached for more than 2 hours, and they were not deeply embedded. Many people will tell you that a tick has to be attached for 24 to 48 hours to transmit Lyme. I know differently.

Put any one of the above 8 ticks names into a Yahoo search and read some of the scientific studies. Or go here for a listing of tick species and scientific studies on whether or not they can carry and transmit Lyme and/or other diseases. The links above are just a sampling of what I have found. They all carry disease, and if they bite you there is a chance they can transmit them (it has been suggested that Rocky Mountain Spotted fever can be transmitted just by touching a tick). Don't believe the mantra "its not a deer tick, don't worry."

Lyme Disease has been documented in 49 US states. Ticks are carried by migratory birds from as far north as Canada and as far south as South America.

And fewer than 50% of those infected with Lyme Disease get the characteristic "red spot" that is supposed to be the signal that you got the disease.

Two weeks after my first tick bite I noticed blood in my urine for about 3 days. In the next town I called a service called "Ask a Nurse" that answers medical questions, and the nice nurse told me that if it went away by the third day not to worry about it. I later learned that this is a symptom of Babesia, a parasitic disease similar to malaria which I will explain later. New studies are showing as many as 66% of those infected with Lyme also have Babesia.

Knowing what I know now, I would advise anyone who gets bitten by a tick, any tick, to begin taking 500mg of Doxycycline a day immediately. Most doctors do not know how to diagnose or treat Lyme Disease as they are going by outdated CDC guidelines that were developed only for surveillance purposes. The CDC now admits that these guidelines are insufficient.


If you get bit by a tick, get yourself to a Lyme Disease doctor who will prescribe these high doses of antibiotics immediately (further down the page I will tell you how to find one). If you don't follow this advice, you may never get rid of Lyme.

I've heard more than one person say they went from doctor to doctor for 3 years or more (some have been through more than 50 doctors) and were told different variations of "its all in your head."

Some people have been on heavy antibiotics for more than five years, with little improvement. Two to three years seems to be the normal span of time that people are treated by an experienced Lyme doctor, and many of these people relapse later and have to go through it all over again.

This is not something that can wait a month or even a couple of weeks. The greatest success in treating these tick-borne diseases comes from catching them early. Once these diseases have spread throughout your body you are talking years of heavy doses of medication, if you can be cured at all.

These are very serious diseases. Many people with Lyme Disease have mistakenly been diagnosed as having multiple sclerosis, Lou Gehrig's disease (ALS), lupus, and chronic fatigue syndrome.

If you, or anyone you know, believes they may have Lyme Disease, and your doctor diagnoses you with one of the above illnesses, get a second opinon from a doctor who specializes in the treatment of Lyme Disease. You see, there is little or nothing they can do for you if you have MS or Lou Gherig's disease or chronic fatigue syndrome. Nobody knows what causes these other diseases. Lyme Disease is treatable.

Above all, do not let your doctor treat you with steroids if you believe you may have Lyme. This will suppress your immune system and can cause irreparable damage to your central nervous system.

Lyme attacks your central nervous system, and causes paralysis, hearing loss and blindness in later stages. People are losing points off of their IQ (verified by tests) from the neurological effects of this disease. I was never a math whiz, but I could easily do algebra and geometry, and before I started treatment these things were a challenge.

The first thing I came across in learning about Lyme is all of the confusing terminology, and I have some medical training so I thought I would have that area covered. The thing that confused me more than anything is all of the different names for the same things, and all of the abbreviations people in the "Lyme world" use.

Lyme disease is also referred to as:

Lyme Borrelia

Borreliosis

Borrelia burgdorferi (Burgdorfer is the name of the doctor who identified the bug that causes the disease)

B. burgdorferi

Bb

Spirochetes (refers to a type of bacteria that is spiral shaped, of which Lyme is one)

Cysts, or cystic form of Lyme

See how confusing it can be if you have many people posting messages to a message board, all using different names for the same thing?

Well, to complicate matters more, there is also another disease called Babesia that many people who have Lyme also have, and it took me quite awhile to figure out that this was a separate thing, and what names it goes by. Babesia is also called Babesiosis, Piroplasmosis (piroplasms are a type of protozoan) and a shortened nickname is Babs. Although this is a separate bug altogether (a protozoan), many people who are infected with Lyme Disease also have a coinfection of Babesia.

A coinfection is another separate infection that co-exists along with Lyme. It is very common for ticks to carry more than one disease, and many people with Lyme have one or more coinfections of other diseases.

And another B word that can be confused with Lyme is Bartonella, which is another coinfection that is separate from Lyme. Bartonella is also known as "cat scratch fever."

A third common coinfection is Ehrlichiosis (also Ehrlichia).

There is also a lot of talk about Mycoplasmas. There are several different strains of this bacteria, and the gene sequence of one of them has been patented by the US Army. Mycoplasmas have been implicated as a possible cause or contributing factor in Gulf War Syndrome.

It is believed that there are many bacterial infections that are as yet still unidentified. Many people believe that the ticks that carry Lyme commonly carry multiple strains of many different bacteria, so if you are infected with Lyme then you likely have others as well, which can complicate treatment.

Recently, the American Lyme Disease Foundation reported that "with support from the ALDF's Research Program, recent studies at Yale's School of Epidemiology and Public Health revealed a new spirochete resembling B. miyamotoi, which causes relapsing fever in Japan. Further studies indicated that the spirochete is found in 10-20% of ticks studies in New York, Connecticut, Rhode Island and New Jersey, and if implicated in human disease, may help explain late-stage symptoms exhibited by some people. In addition, the research indicates there may be other undisclosed microbes lurking within Ixodes scapularis[deer tick]."

And contrary to popular belief, the "deer tick" is not the only tick that carries Lyme. Many different kinds of ticks do, and it is likely that most ticks carry some type of bacterial infection. It is known that the white-footed mouse carries Lyme, and is one source of tick infection. There is also speculation that these bacteria are also carried by fleas, mosquitos and other insects, although more research is needed in this area. So how do you know if you have Lyme Disease? Or Babesia? Or Bartonella? Or Ehrlichia?

Those questions aren't as easy to answer as you might think. The tests for these diseases are not very accurate, so even a negative test does not rule out the possibility that you have them. For instance, there are at least 12 strains of Babesia, and tests are only available for two of them, so a negative test for Babesia really means nothing. The best test labs are Igenex and Bowen.

If you decide to be tested by Igenex, you should request tests 183, 188, 189, 200, and 203 initally. This will test you for Lyme Borrelia by both Western Blot and ELISA as well as Babesia and Ehrlichia. Current costs for these tests as of October 2002 will total $367 for all 5 tests if you pay up front--Igenex will not bill your insurance company.

To request these tests, print out this form at the Igenex web site and take it to your doctor (you can use your family doctor for this, but don't let them use their lab, make sure they use Igenex--its your money and you are paying for a service) and request that he or she draw a tube of blood and then spin it to separate the serum. Then send the serum by FedEx to Igenex.

If you have any questions about this you can call Igenex at the 800 number listed on their website. You can also call them ahead of time and have a test kit mailed out to you to take with you to your doctor's office.

You will see references to IgM and IgG in regards to these tests. These are types of antibodies that the tests will recognize in your blood serum. IgM measures initial immune response while IgG measures a later stage response.

The tests do not test for the bacteria themselves, only your immune response to them. So if you have Lyme and your immune system is weak due to other factors, your body may produce few or no antibodies, and thus test negative. Your body may also stop producing antibodies if you have taken antibiotics. Also, if you have just been bitten by a tick your body will not have had time to produce any antibodies.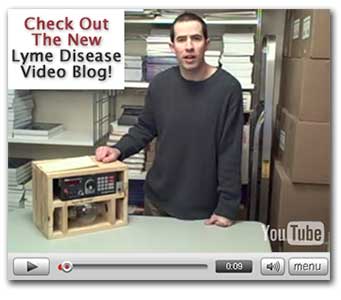 If you have been tested, even if you are told your test is negative, ask to see the results and ask which bands, if any, showed up on the test. Your doctor will likely tell you that you tested negative even if your test shows that you have Lyme. The reason is that old CDC reporting guidelines state that you must have 5 bands to be positive. However, even one Lyme-specific band can prove you have Lyme.

If you want to know how to interpret these tests and what the different bands are, click here. I would also suggest you check here for additional information. For questions on what specific bands mean, the above two links often provide links to studies on them.

The short answer is that bands 14, 21, 22, 25, 28, 31, 34, 35, 37, 39, 47, 50, 83, 93 and 94 are specific to the Lyme spirochete, borrelia burgdorferi (Bb). The presence of bands 42 to 45 may indicate an Ehrlichia infection, click here for reference on this. There are other bands that may indicate a Bb infection, but because they could also be caused by other diseases they cannot be used as a screening tool, unless taken in context with other Bb specific bands.

If someone tells you that you need at least 3 or 5 of these bands to have Lyme, ask them why you would have any of these Lyme-specific bands if you had never had Lyme in your system. The 3 to 5 band criteria are based on outdated CDC guidelines, but many doctors who are not educated about the disease still use those outdated standards to make a diagnosis.

False positives come from non-specific bands that may resemble other diseases. Lyme-specific bands can only mean that Lyme antibodies were in the sample they tested. Ever hear of anyone who is sort of pregnant?

Bowen takes a different approach, and actually cultures (grows) the bacteria from your blood sample and photographs the bacteria themselves. They are a non-profit doing research and ask for a $215 tax deductible donation to conduct testing for Lyme, Babesia and Ehrlichia.

Your doctor can call Bowen and they will fax all of the necessary forms to your doctor's office.

Doctors who are experienced and knowledgeable in treating Lyme Disease (often referred to as Lyme Literate Medical Doctor or LLMD) do not base their diagnosis solely on the tests. In fact, these experienced Lyme doctors often make a diagnosis of Lyme Disease even in the face of negative tests. Their diagnosis is based on symptoms.