Lyme Disease & Rife Machine Research Website This website is the result of research into using rife machines against Lyme Disease...

Lyme Disease & Rife Machine Online Discussion Group This discussion group focuses on using rife machines to treat Lyme Disease. The group has more than 800 active members. Membership is free...

User Reports from people treating their Lyme Disease with Rife Machines Many of the people using rife machines have written accounts of their progress. This is an extensive list including over 30 user reports...
Yahoo! Discussion Groups:
High Power Magnetic Pulser
Electroherbalism
Rife Group 1
Rife Group 2
Rife Machine Sharing Group
How to Build a Doug Device
Rife Machine Links:
Annual Rife International Health Conference
DFE Research
Used Rife Machine Equipment
Richard Loyd, Ph.D Rife Researcher
Rife newspaper/magazine articles 1930-1971
High Power Magnetic Pulser Store
Electroherbalism
The Cancer Cure That Worked
Lyme Disease Links
Lymenet
Lymeinfo
Lyme Disease Overview by Mathew Goss
http://www.chroniclymedisease.com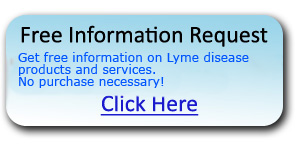 Disclaimer: This website is provided for informational and educational purposes only. The statements made have not been evaluated by the FDA. This website is not intended to treat, diagnose, prevent or cure disease.
Although some people suffering from Lyme Disease recover with antibiotics, many do not. Rife machines are a valuable alternative treatment. Rife machines are experimental electronic frequency devices that can be purchased ready-built or constructed fairly easily. They are not FDA approved. This website was created by two Lyme Disease sufferers who are nearly healed because of rife machine technology. Our goal is to share what we know. We are not doctors. If you have any questions please join the Lyme Disease & Rife Machine Online Discussion Group where you will receive support from more than 800 people using rife machines to treat their Lyme Disease.